Background: On Saturday, May 21, 2022, a major storm ripped across Ontario, causing damage through the whole province, taking the lives of at least eight people, and devastating the hydro infrastructure. I live in Ottawa, at the eastern edge of the province, and many here have wind damage to their homes and will be without power for days. This latest extreme weather event is causing people to think about preparedness.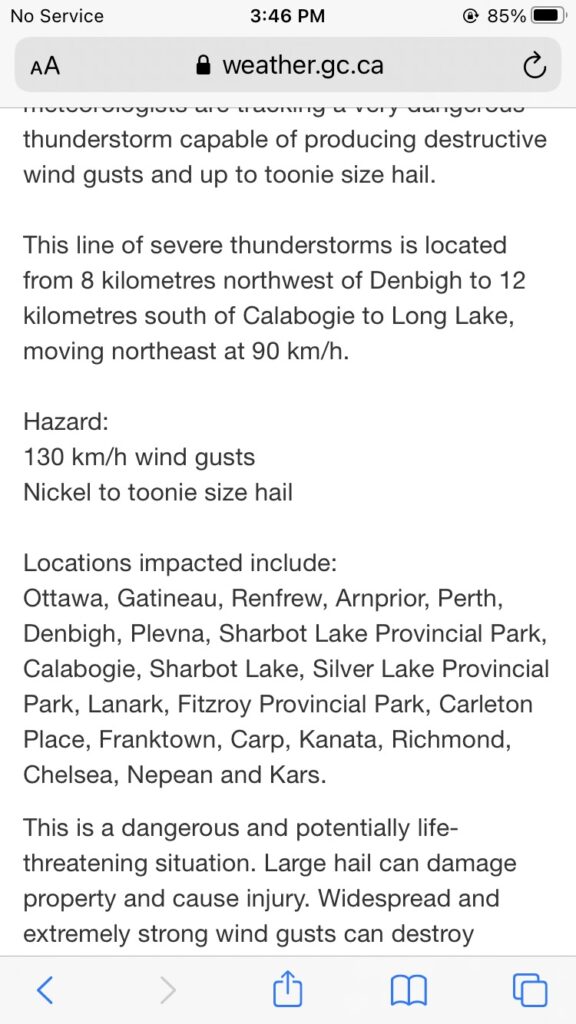 Being ready for a storm or major event is a form of comfort. Even as an event is happening, we know that we will be okay, because we know that we have the tools and the skills that we need to get through it.
And let's be honest: Our world is changing, and that change is bringing an increase in all forms of disaster. That makes preparedness much more than just a buzzword: It is a necessity.
I have long been security conscious and therefore a bit nerdy when it comes to being prepared. I once gave this to my mom for Christmas: A homemade go-bag, complete with two-man tent. (And guess what got used last weekend?)
So, as we continue talking about preparedness, here are some of my favourite things that we used after the May 21 storm–when we had no power, no Internet, and "No Service" on our cell phones:
Camping Stove with Fuel: We don't have a barbecue, so this thing allowed us to boil water for tea and cook food. Even if we did have a barbecue, this little guy is portable and comes in a carrying case.
Powerful Flashlight: I love my Letmy brand flashlight. So much. It eats up the batteries, but I can point the beam all the way into the windows of the house at the end of the street. Enough said.
Battery Packs: We use the Anker brand battery packs, which enable us to charge phones and laptops when the power is out. (Remember to recharge them when the power is back on, and periodically through the year as they may lose some charge.)
Battery / Solar / Manual-Powered Radio: This was the only source of information over the weekend. Our cell phones had "No Service" and of course the Internet was down. Ottawa's 1310 AM was a godsend. This device multitasks also as a lantern, flashlight, and siren.
Candle-Powered Lanterns: If you're going to burn candles, why not enclose them in a glass container–and have a hook so you can carry them around? Remember to use clean-burning candles, like beeswax, as the nasty ones release toxins into the air.
Headlamp: These are handy especially if you're changing a tire at night or need to keep your hands free. I invested in the Petzl headlamps years ago: this one offers 23 meters of distance and 190 hours. Remember to store the batteries in a separate baggie for two reasons: Batteries drain when they're inside a device; and old batteries leak acid that ruin your device (I speak from experience).
Whistle: A Fox 40 is just a good investment. You can keep it on your keychain.
Waterproof Matches and/or Lighter: I store these together in little packs wherever I have my beeswax candles.
Reflective Vests or Armbands: If you're walking around a neighbourhood that's full of debris, make yourself stand out with these simple items. I like the reflective armbands; we got a pack of about 12 for maybe $10, and keep them in the car, front hall, etc.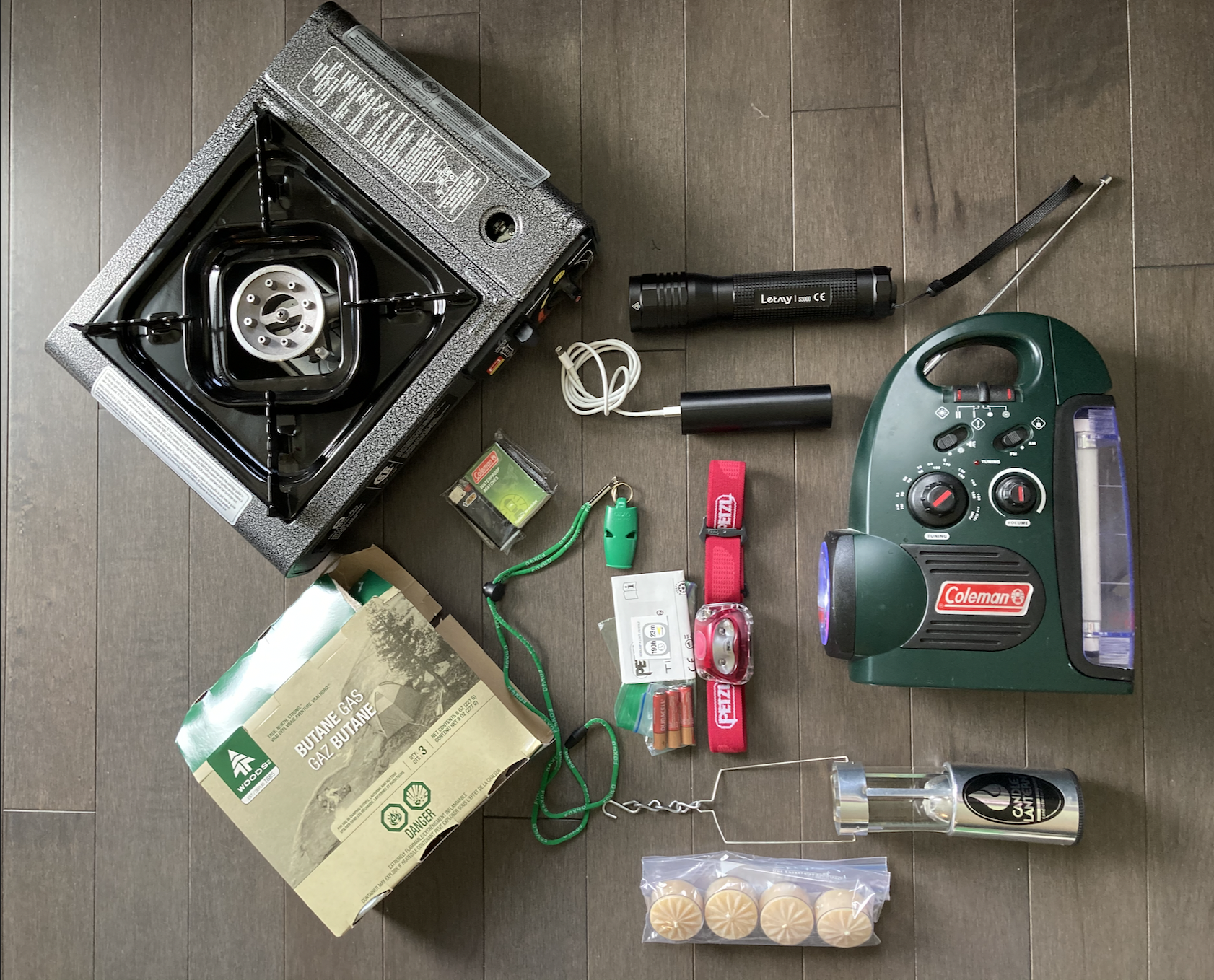 Other good items to have are:
nervous system relaxers, such as CBD oil, Rescue Remedy, lavender oil, and magnesium supplements;
immune system boosters (because stress / trauma is a hit on your immune system and can promote illness), such as zinc, echinacea, vitamin D3, vitamin C, high-quality multivitamins, and herbs like licorice root to replenish your adrenal glands);
a blend of nutritious food (such as just-add-water nutritional shake powders) and comfort food (to nurture your emotions and help you feel grounded);
books, games, printouts of your favourite exercise or yoga routines, and printouts of your favourite meditation or pranayama (yogic breathing);
rain ponchos;
foil blankets;
sleeping bags;
small tent;
cans of gas (refresh them regularly);
and all the standard emergency supplies like cash, copies of documents, medications, pet food, and of course human food.
I group items together in plastic baggies, with the labels facing outward. This way, in an emergency, I can grab the baggie I need, and I know exactly what's in it. It makes it easier to store in my large go-bag, too.
What preparedness items do you use? Feel free to comment and add to the list. We all benefit from sharing, especially as extreme events are happening more frequently.
Being emotionally capable of handling disaster is also a preparedness tool. If there are things you know that you need to deal with, feel free to make an appointment and let's get you healed, whole, and ready.
~ Jen